Providing Air Duct Cleaning in
Toronto – North York – Scarborough
Contact Us
Contact Us by clicking below
Request a Quote
Request a Quote by clicking below
Special Offers
Find our Specials by clicking below
Ontario Duct Cleaning started in business in 1979 and was one of the first companies of its kind in Ontario. From humble beginnings with one truck in Toronto we have grown to have offices throughout Ontario.
Rob Kelly is the owner and General Manager of the Toronto operation and joined Ontario Duct Cleaning in 2001 after a career in the oil industry.
At Ontario Duct Cleaning we believe that service and quality come first and foremost, and every customer, large or small will receive the same level of service. By placing emphasis on fair pricing, outstanding service and excellent workmanship, we have gained a reputation for professionalism second to none in the industry.
The Toronto team is a dedicated group of individuals who take pride in their work and continually strive to provide the best possible service to our customers. We are committed to providing our employees with continuous training in order to maintain our high standards and remain the leader in the duct cleaning industry.
As members of the National Air Duct Cleaners Association (NADCA) we have certified technicians on staff. We are also members of the Indoor Air Quality Association, Canadian Federation of Independent Business and we offer Air Miles Travel Miles to our customers.
The office staff are very personable and knowledgeable and look forward to explaining the duct cleaning process and answering all of your questions. Should there be questions they are unable to answer, or information needed on commercial and industrial system cleaning, Tony Rodrigues and Rob are always available.
Special Services and Products
Air Quality Analysis
Electrostatic Filters
Electronic Filters
Duct Disinfectant Spray
Flow-through Humidifiers
Ultraviolet Air Purifiers
Drain Pan Refurbishment
Duct Sealing (Commercial)
Kitchen Exhaust Cleaning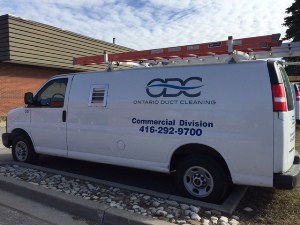 Air Duct Cleaning – Toronto – North York – Scarborough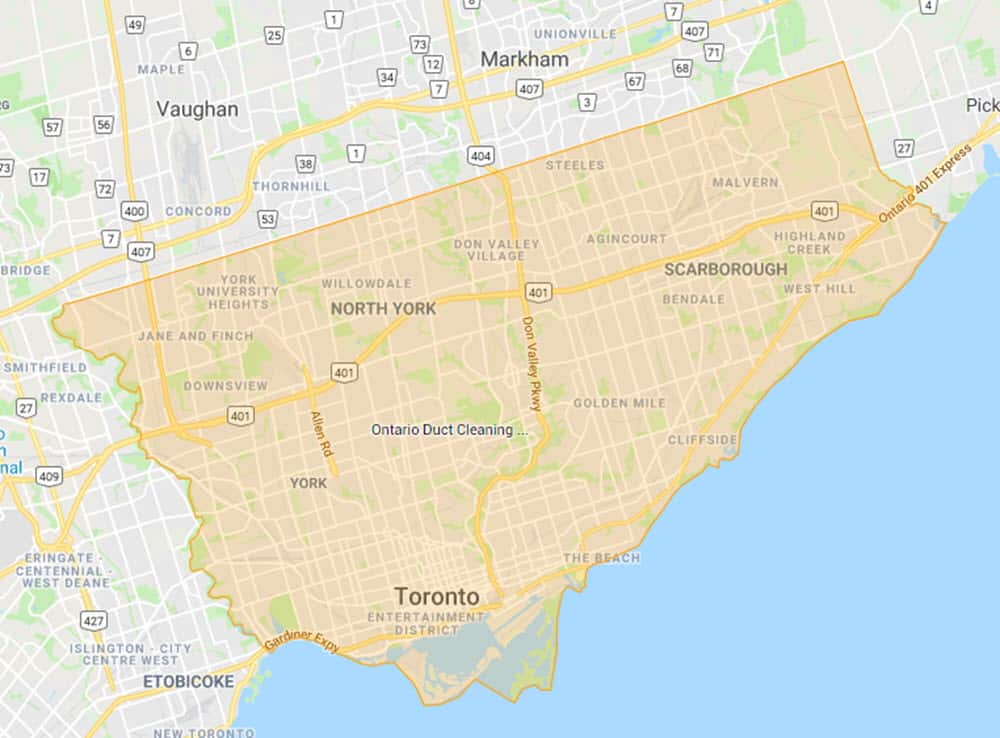 Click Service Area Map Above For Larger View
Call the number listed on this page to book your Duct Cleaning Appointment today!
Complete this form to receive a Quote. It's fast, easy, and completely confidential.
Special Offer
To show our appreciation to our customers, please use our Web Coupon below. Please click on the print icon below or click File then Print on your Web browser toolbar and save!!!
*Not valid with any other offer Valid for customers only in Toronto Area
We provide residential, commercial and industrial duct cleaning services and more to the following areas: Toronto, North York, Scarborough, East York.

Spring Special
$40 Discount
on Residential
Duct Cleaning

Call Today
416-292-9700
Offer Expires: March 31, 2019
* Cannot be combined with any other offer. Coupon must be presented to rep upon arrival. Valid in Toronto Area